BCRA and UNESCO hold Community Radio Stakeholders Meeting for Strengthening Network
Archive of Community Radio
BCRA and UNESCO hold Community Radio Stakeholders Meeting for Strengthening Network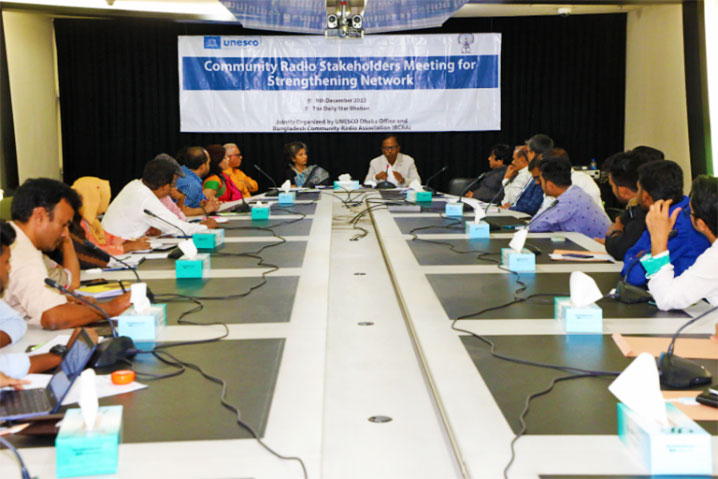 UNESCO Dhaka Office and BCRA jointly organize the `Community Radio Stakeholders Meeting for Strengthening Network' with the objectives to strengthen the capacity, cooperation and networking among community media, print and online media by engaging relevant stakeholders including policy stakeholder. And Plan joint initiatives on strengthening community media to be implemented by 2023. The event was held on 9th December, 2022 at 01.00pm at Azimur Rahman Hall, 3rd floor, The Daily star Bhavan, Kawran Bazar, Dhaka.
Md. Mojibor Rahman, Joint Secretary (TV and Radio), Ministry of Information and Broadcasting was present there as chief guest; ABM Kamrul Ahsan, Country Representative, Americares, and Member, Management Committee, Radio Naf; Md. Azizur Rahman Programme Manager (Radio Pollikontho and Popular Theatre) Social Empowerment and Legal Protection (SELP), BRAC were present there as special guests. And Mr. Shakhawat Sumon, Community Radio Specialist and Journalist was present there as resource person. Noore Jannat Proma, Project Officer, UNESCO and Syed Tarikul Islam, General Secretary, BCRA and tation Managers, Production Managers & Program producers of 19 CRs were also present at the event. The session was moderated by Sangita Ghose, Focal BCRA.
Published on: Saturday, 14 January 2023, 08:09 pm | Last update: Saturday, 9 September 2023, 08:34 am | Total views: 634.